Northern California, Calistoga NOV 2019
Join us for 2 nights, 3 days in an Elegant Historic 17 acre Wellness Destination. Swim and soak in an Olympic sized 92-degree mineral pool with Buddha Garden, Geyser-fed pond, lawn games, complimentary bicycles and hammock garden!
South of France "Redtraite D'été" JULY 2019
This one of a kind 400 acre private estate in the South of France will transport you in time. Practice yoga in a 200 year old stone building, relax in 1400 square foot, private spring fed swimming lake. Eat like royalty with a private Provencal Trained Chef. Space limited to 10 participants.
Oahu Hawaii FEB 2019 Valentines Retreat
Imagine a short plane ride to one of the most beautiful places in the world with 4 days and 3 nights to reconnect,each other, self and source. Go off the grid in a private beach front estate.
Reconnect to self and source. Quiet the mind, know the heart, listen. Reserve your spot now!
Sayulita Mexico "The Art of Moderation" (not available)
This all inclusive 4 night 5 day retreat is held in Sayulita, Mexico a town with a beautiful mix of classic Mexican style infused with modern creative sophistication. This retreat includes morning and evening yoga, meditation, a welcome and farewell group dinner, daily breakfast, everything sun, ocean and connection.
Projects:
Creative Collaborations
Om & Roam is seeking trained, female yoga teachers to be a part of our 3rd Annual Big Love for Burma Seva Project. We are so humbled by this unique opportunity to teach yoga asana at a Theravada Buddhist Nunnery near Yangon, Myanmar (Burma). This project is filled with heart and complete devotion to the selfless power of yoga. We are extremely fortunate to be invited back into this community to share yoga with hundreds of nuns and orphans. Our passion and purpose is to foster self-empowerment, self-respect and body awareness in our sisters in Myanmar (Burma) through yoga. The experience that we share is life transforming for all involved, it is an amazing synergy to witness!
April 11-17 2018 BurmaYangon Myanmar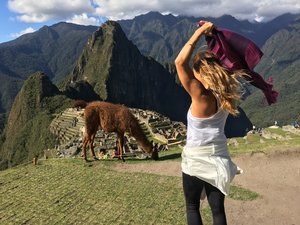 This ancient shamanistic civilization, with its unique culture of spiritual significance is an authentic and powerful foundation for self inquiry and self study. This project by design is to create a once in a lifetime experience through the practices of nature based medicine.
Fall 2018 "Specific dates TBD"
What people are saying about WMyoga retreats